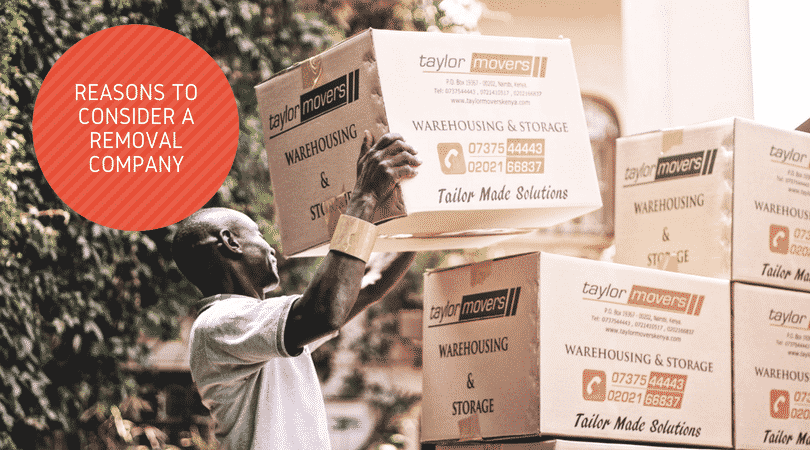 REASONS TO CONSIDER A REMOVAL COMPANY
We all know how stressful moving is; it is a very huge undertaking especially when one is moving within Nairobi or moving somewhere else in our out of Kenya. Most people always dread the process of moving no matter how good or better the new location is for them, packing your life up and moving to a new place is hard enough but having to deal with packing, lifting, unloading and unpacking a house or even a business is even worse and people don't look forward to it.
We at Taylor Movers Kenya are here to take the stress out of you, whether you don't have time or in need to eliminate any stress, hiring professional movers and the right company will make a huge difference.
There are many reasons why a removal company is helpful:
HELPS TO FREE UP TIME TO FOCUS ON OTHER THINGS
Moving day is one of the most hectic days, the thought of it makes one wish there was any easier way to get it done. Moving does not only involve moving from one location to the next, but you also have to handle other things like clearing with the caretaker, dealing with management prior, during and after the move off course including taking care of the kids. Have no fear, Taylor Movers Kenya is here to help, by choosing us you free the mental space involved in the details of the move, focus on all the other aspects of relocating and literally leave the heavy lifting to US!.
The most common thing people forget is about their own health and often they get surprised how easy it is to get injuries during a move. Without professional training and experience, one will not know how to properly handle packing and moving items wither delicate, heavy or dangerous.
That's why we have a Mover Education Program to ensure that our movers know how to handle the oddly shaped, sharp, fragile pieces of furniture. Furthermore our movers are used to carrying and handling such items, ensuring we will deliver the best practices for packing and moving your items.
MOVERS HAVE THE NECESSARY EQUIPMENT
Taylor Movers Kenya will have the tools and all the wrapping materials needed for large furniture and for all your valuable items. Heavy furniture can take another level of stress when you don't have the required tools to dismantle each piece. Our moving teams are professionally trained carpenters, electricians and plumbers to ensure all items are handled well.
Moving large delicate items like pool tables, piano that require extra special wrapping to make sure the structure of equipment is maintained.
ALL YOUR VALUABLES ARE INSURED
Do you trust yourself to move your valuables? Are all your expensive furniture insured? If your answers are "NO" then you need to call movers. Taylor Movers has experienced professionals who have the ability to move your belongings.
We have you COVERED!! No matter how fragile you items are, we have the necessary insurance cover.
This will make you actually save money in the long run.
In conclusion, without professional movers, one may end up with broken, lost items or unexpected moving expenses. Professional movers will have an estimated quote with no other hidden charges for equipment you did not know you needed or an underestimate.
From these excellent reasons, hire Taylor Movers Kenya, if you want to take stress out of your move.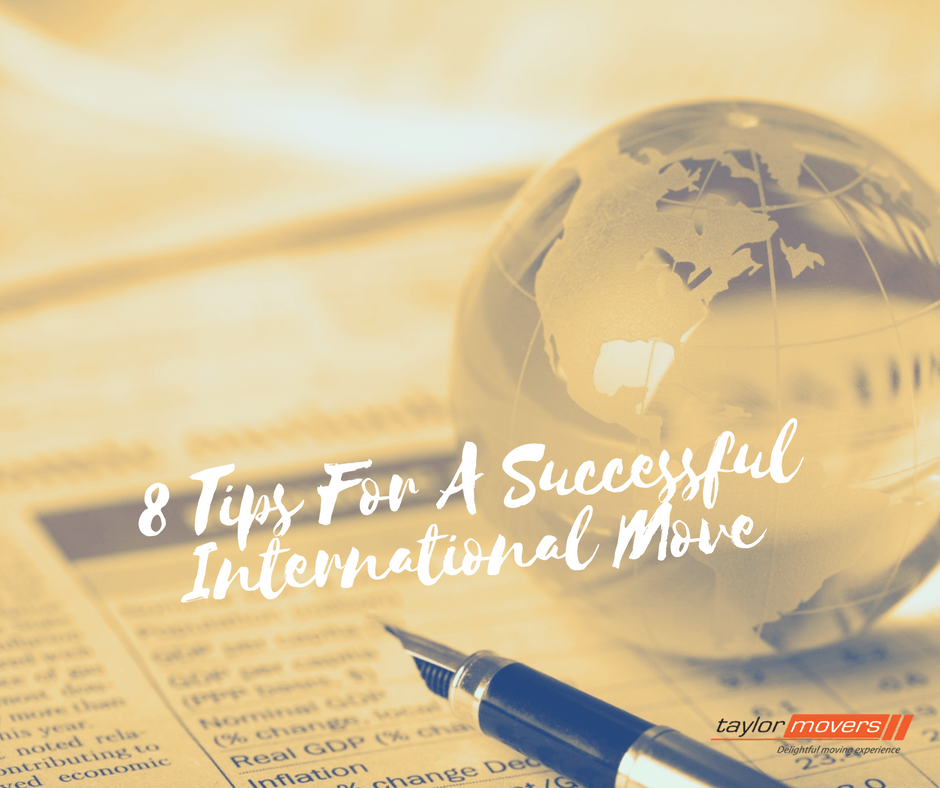 Moving from home is always said to be one of the very most hectic and stressful events in one's personal life. Even more so when it comes to moving to a totally different continent and country, the level of stress involved can increase. For a successful relocation, choosing the best removal company is key; Taylor Movers East Africa will make sure your belongings are securely packed, loaded, transported and unloaded to your final destination.

#TIP 1: EFFICIENT RESEARCH
Most people move for various reasons, it's either for personal reasons, relocated by employer, because of kids or to join ones family, and research is an important factor.
This can be done online, through the Expat forums and communities, in these kinds of forums one can get to know a lot about life in a particular country.
Keep in mind that most people feel very safe talking about how homesick they are or what exactly they don't like about the new home, so don't get distracted by the negative sentiments.
As for the children it's important to investigate schools and access to other activities.
Even after you the research your new home, your chosen place of residence may not work for you once you get there. It is advisable to first have a rented home on a short term basis so that you can choose what suits you.

#TIP 2: VISAS AND RESIDENTS PERMITS DOCUMENTS ARE IN ORDER.
No matter the reason why you are moving or how straight your situation, unless you are a recognized citizen of the country you are moving into, you will have to make the required arrangements for work and resident permits. You may also require a visa because without all this documentation a lot of things will be put on hold for example, opening a bank account, clearing your household goods etc.
The processing of these documents vary per country, since they may take time to process, so it's important to understand well in advice what should be provided and get everything processed before your belongings can be transported to the new country since they will be required for customs clearance at the new country.

#TIP 3: EXCHANGE MONEY
There will still be bills to pay or money to transfer to your new country.
Since banks don't offer the best exchange rates for money transfers, it will be better to consider using the foreign exchange bureaus. Be cautious of caring large amounts of money as many countries have restrictions on the amount of money you may carry into their borders. This also increases the risk of theft, large amounts of money should be discouraged during your trip.

#TIP 4: PREPARE WELL IN ADVANCE FOR MOVING YOUR PETS
When moving overseas you need to know what the new country rules and laws on pets transportation involves, you will need to consider a professional pet transport company who will help with the processing the paperwork. From vet visits, vaccinations and quarantine ,they will know the most efficient and comfortable way to get your pet to the destination country safe and sound.
It's also important to note and keep in mind that in some locations, it's not easy to find a pet friendly rental home or even an apartment can be difficult and this is where research plays a major role.
#TIP 5: TAXES
Be sure to follow up and check on your tax obligations both at home and the destination country.
#TIP 6: HEALTH CARE
It's important to find out what are the requirements for health insurance and the amount it covers in the new country, even if there seems to be no reason to acquire one, it's never a good idea not to acquire health insurance.
It is important to have information on your health records from your previous doctor about any current treatments. This information will include your current treatment and any medications you may be taking. In the event of any emergency, medical staff in the destination country will be able to access this information to provide care to you or any family member. If there is a language barrier between the origin and destination country you should consider translating your medical records to make it easier for the medical staff to understand.

#TIP 7: LEARN THE LANGUAGE
It's always easy to get along in many countries without having to know the local language.
Even just knowing how to say PLEASE, HELLO, EXCUSE ME…helps to make life in the new country easier.
It also helps to understand symbols or signs in public places and even paying bills.
Classes are also a good way to learn the local language and even make friends.
Consider using any of these free or low cost resources:
1. DuoLingo – Excelent Free tool. < http://www.duolingo.com/>
2. The Foreign Service Institutes' varied list of courses. <http://fsi-language-courses.org/Content.php>
3. The Omniglot Intro to languages. < http://www.omniglot.com/writing/languages.htm>
4. BBC languages' intro to almost 40 different languages. <http://www.bbc.co.uk/languages/other/quickfix/>

#TIP 8: BE READY FOR CULTURE SHOCK AND HOMESICKNESS
Even those who adjusts easily in new areas or are well adjusted expats yearn a bit of home, the new food that you have never eaten at home leads to irrational cravings, though , there are many expat focused Eat outs with tastes from home, though the prices may be very expensive.
Buy a few cook books to help recreate your favorite meals back home or even discover new ones with a twist of the local foods from the new country
One can help reduce the missing through, installing apps like Skype, Face time so as to have face to face chats with family or friends.