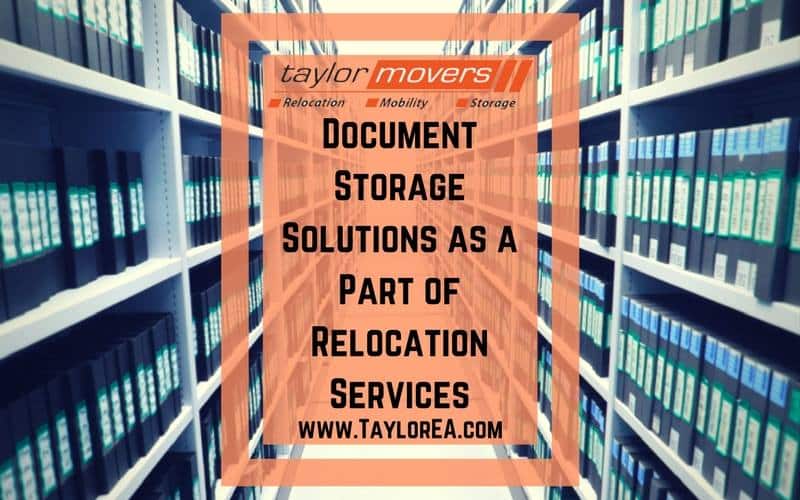 In any business organization, a chaotic work process is never a productive one. For any successful business process, it is imperative to follow a strategic and methodical procedure, especially in the professional relocation services industry. Being equipped with the accurate productivity tools is the first step to a professional relocation services company. Now, once a professional moving services company is in contact with a customer, a proper record management is the next important thing they need to focus on. Keeping an organized record for all the requirements of customers before and after the completion of the relocation services is extremely vital in running a successful moving services company. Every organization strives to ensure the safety of your personal and business records when you get in touch with them. And, since a relocation service includes packing and moving all your valuable belongings from one destination to another, it is crucial to implement the best document storage solutions.
What Exactly is Document Management in a Business?
The process of document storage solutions includes categorically storing active and inactive information for a certain period of time. The information may or may not be used again in future, but nevertheless, it should be stored until the end of its retention schedule. This is achieved with the help of a proper document storage solutions. The process of storing documents vary from one organization to another depending on their businesses, clients and work process. Getting the assistance of professional document storage solutions providing company during a relocation service is the easiest, safest and most cost-effective way for ensuring proper storage for all documents.
Almost every individual, business organization, and government agencies have documents which need to be stored or processed on a regular basis, irrespective of having a paperless online system. With the advancement of technology, we are able to store and process a huge amount of transactions without printing hard copies. But certain entities like invoices, contracts, legal documents, purchase orders and receipts require a paper backup. The quantity of documents for individuals is limited. But corporate organizations, have a substantial number of documents in hard copies. During any relocation process, it is imperative to keep all the documents safe for every single client. This is where the importance of professional document storage solutions in relocation services arise.
Advantages of Document Storage Solutions in Relocation Services
The primary advantage of professional document storage solutions in relocation services is safety and security. With secure document storage solutions, it becomes easy for the relocation services company to keep a track of the valuable documents of their clients and protect them from unauthorized access of third parties.
Professional document storage solutions providing company hire staff after proper background screening. Only a handful of selected personnel is provided with the required security clearance. The warehouse for storing documents is properly secured and the documents are kept safely in damage resistant areas. Along with that, a professional document storage solutions company comes with necessary equipment for packing and boxing the documents safely. The boxes prevent the documents from being exposed to light, dust or any other damage during relocation.
Individuals with proper security clearance can access your documents. As long as your documents are being packed, stored, relocated and handed over to you, the document storage solutions providing company will take complete responsibility.
Being able to access your documents at any given point in time and location is another advantage of a professional document storage solutions providing company. Since they store documents of every client in a consolidated and categorized manner, it is extremely easy for them to let you access your documents at any given time.
Saving time, cost and labor in relocation are important advantages of a professional document storage solutions company. Considering business aspect, it cannot be denied that saving time is as good as saving money. A genuine document storage solutions company will offer you with affordable payment rates and it can be a great time-saving tool. They will offer efficient document collections and storage services during relocation according to your scheduled deadline. The effectiveness and on-time delivery are the primary reasons why you should always opt for professional document storage solutions company.
With professional document storage solutions, the chances of better collaborations increase. With better collaboration, it becomes easy to meet client's requirements in the next stage of relocation services on reaching the destination. A document storage company offers storage options depending on the needs of their clients. It helps in freeing up a lot of storage space for corporations because the bulk documents are stored in secured warehouses. This is especially helpful while relocating documents from banks, financial institutions, and law firms because such organizations have to store massive amounts of hard copies on different topics.
Since a professional document storage solutions company strictly focuses on the safety and security aspect, there are minimal chances of documents getting misplaced, lost or stolen while relocating from one place to another. This offers peace of mind that your valuable documents are being safely relocated.
A company that provides professional document storage solutions can be used by corporates seeking such services. These companies also provide backup document storage services too. Though this particular advantage may not be too relevant for relocation because it is a one-time process. Still, this is a useful advantage for different corporate organizations.
Potential Risks of Not Implementing Proper Document Storage
First of all, if you don't opt for a professional document storage solutions company, the process of relocating documents is going to be haphazard. There won't be any security during the relocation process. Thus, it will expose valuable documents to inappropriate third parties, while hampering the confidentiality of the documents. This can be extremely troublesome for the banks, financial institutions, and corporate law firms.
The lack of security also increases the chances of documents being stolen or lost. When you hire a professional document storage solutions company, the responsibility of safely keeping the valuable documents relies on the organization relocating it.
A professional document storage provider stores documents in a damage proof and climate controlled locations where there are no chances of your documents getting damaged. The storage facility of a professional document storage provider comes with all the safety measures for preventing fire or any other hazards.
Losses in terms of time and money are important factors which affect the document relocation procedure. A professional document storage solutions company will offer timely pickup, safe storage and on-time delivery of your valuable documents to the scheduled destination. That is how a professional document storage facility works. Not selecting a proper document storage option leads to the wastage of both time and money.
Why is Taylor Movers the Best Document Storage Company in Kenya?
When it comes to trustworthy relocation, excellent mobility and secured document storage options in Kenya, Taylor Movers is absolutely the best one. The company ensures complete customer delight and takes care of the entire relocation procedure. Every aspect of your document storage needs is met during corporate and personal relocation.
The company strictly focuses on the safety and confidentiality of documents of every single client. Document security for clients is the top priority of Taylor Movers. To do that, Taylor Movers thoroughly scrutinizes every single employee before hiring them. Apart from that, Taylor Movers offers a lockable storage space with 24×7 security which ensures the documents are only accessible to authorized personnel only.
For easy document storage and maintenance, Taylor Movers uses the indexing methodology according to both you and your account manager's names. Thus, it takes no time to hand over the documents whenever a client needs them. Implementation of a thorough and proper document management system makes them one of the most resilient document storage company in Kenya.
Apart from offering the most reliable relocation services in Kenya, Taylor Movers can also offer custom document management system or procedures for your company. You can opt for the highly qualified relocation and storage professionals to ensure the best relocation services.
Keeping your documents safe might apparently seem to be an easy task, but it requires precision and effective storage options. Safely storing and backing up your documents involve a lot of strategic planning, especially when there are bulk documents in different corporate organizations, banks, and law firms. Considering the present scenario of business organizations, most of them opt for online documenting and cloud storage facilities. But as we have mentioned above, there are certain documents which are presented in hard copies. To keep your documents safe and secured during relocation, the best way is to opt for a reliable relocation company like Taylor Movers. It focuses on understanding the space necessary for every client to store their documents, keep them safe and ensure easy retrieval. To save storage space, a lot of companies hire Taylor Movers for ensuring professional document storage services instead of paying a lease for more space. They ensure impeccable packing and labeling which makes them easy to locate and absolutely damage resistant. If you are planning for any local or international relocation, then you can get in touch with Taylor Movers for all your document storage solutions.