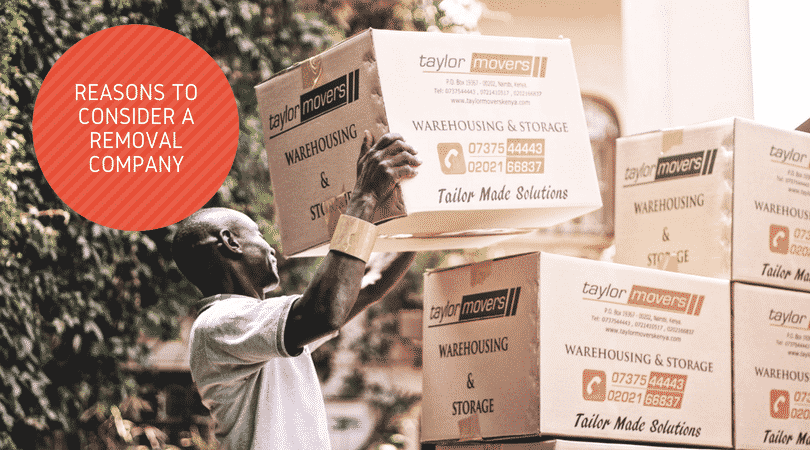 REASONS TO CONSIDER A REMOVAL COMPANY
We all know how stressful moving is; it is a very huge undertaking especially when one is moving within Nairobi or moving somewhere else in our out of Kenya. Most people always dread the process of moving no matter how good or better the new location is for them, packing your life up and moving to a new place is hard enough but having to deal with packing, lifting, unloading and unpacking a house or even a business is even worse and people don't look forward to it.
We at Taylor Movers Kenya are here to take the stress out of you, whether you don't have time or in need to eliminate any stress, hiring professional movers and the right company will make a huge difference.
There are many reasons why a removal company is helpful:
HELPS TO FREE UP TIME TO FOCUS ON OTHER THINGS
Moving day is one of the most hectic days, the thought of it makes one wish there was any easier way to get it done. Moving does not only involve moving from one location to the next, but you also have to handle other things like clearing with the caretaker, dealing with management prior, during and after the move off course including taking care of the kids. Have no fear, Taylor Movers Kenya is here to help, by choosing us you free the mental space involved in the details of the move, focus on all the other aspects of relocating and literally leave the heavy lifting to US!.
The most common thing people forget is about their own health and often they get surprised how easy it is to get injuries during a move. Without professional training and experience, one will not know how to properly handle packing and moving items wither delicate, heavy or dangerous.
That's why we have a Mover Education Program to ensure that our movers know how to handle the oddly shaped, sharp, fragile pieces of furniture. Furthermore our movers are used to carrying and handling such items, ensuring we will deliver the best practices for packing and moving your items.
MOVERS HAVE THE NECESSARY EQUIPMENT
Taylor Movers Kenya will have the tools and all the wrapping materials needed for large furniture and for all your valuable items. Heavy furniture can take another level of stress when you don't have the required tools to dismantle each piece. Our moving teams are professionally trained carpenters, electricians and plumbers to ensure all items are handled well.
Moving large delicate items like pool tables, piano that require extra special wrapping to make sure the structure of equipment is maintained.
ALL YOUR VALUABLES ARE INSURED
Do you trust yourself to move your valuables? Are all your expensive furniture insured? If your answers are "NO" then you need to call movers. Taylor Movers has experienced professionals who have the ability to move your belongings.
We have you COVERED!! No matter how fragile you items are, we have the necessary insurance cover.
This will make you actually save money in the long run.
In conclusion, without professional movers, one may end up with broken, lost items or unexpected moving expenses. Professional movers will have an estimated quote with no other hidden charges for equipment you did not know you needed or an underestimate.
From these excellent reasons, hire Taylor Movers Kenya, if you want to take stress out of your move.