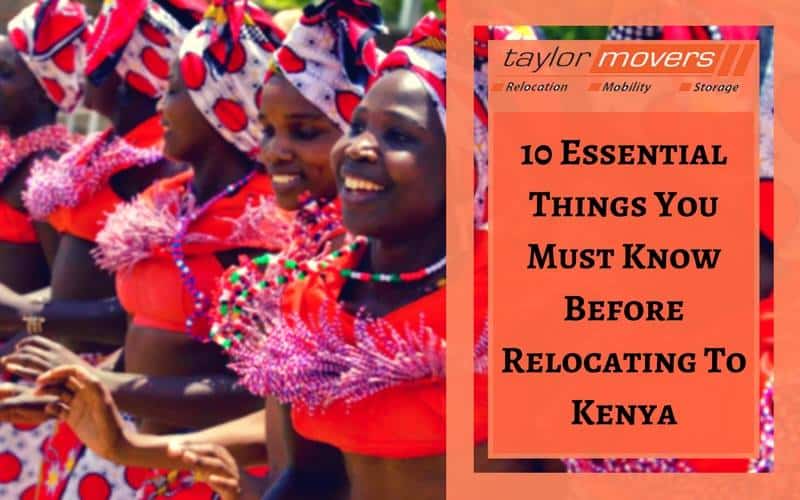 Whether it's for a month or a year, relocation involves a good amount of planning, especially if it is an international relocation. Kenya is one of the most beautiful countries when it comes to sightseeing and cherishing the beauty of nature. Because of its diverse landscapes, friendly people and incredible wildlife, Kenya is a special place. Considering other African destination, Kenya is comparatively safe. It is a country which boasts majestic beaches, a cosmopolitan capital, a rich multi-cultural background and tribal influences.
The expat community is growing constantly and it offers strong business opportunities. Be it a corporate relocation or an individual family relocation, it is better to take the help of the top-class professionals like Taylor Movers while shifting. Just like any other places, there are plenty of things you need to know before relocating to Kenya. Starting from accommodation, schools to the security, there are certain factors expats need to remember while relocating to Kenya. In this blog post, we have brought you the 10 most essential factors you need to remember before you rush to buy a one-way ticket to Kenya.
Remember These 10 Things Before Relocating to Kenya
Where to Stay: While relocating to Kenya, it might be a bit difficult for the expatriates to discover that the housing and accommodation availability is better and cheaper than you think. To get such accommodation, you need to look outside the predetermined 'expatriate neighborhoods'. Rest assured that you will find amazing accommodations in Kenya at a one-third price. You will also find different gated communities and green suburbs which comprises of beautiful houses. Even foreign investors are interested in buying it. There are two locations liked by the expat community, one is the Westlands and the other is Karen. Karen is such a place where you get a chance to interact more with the old Kenyan expats while the Westlands boast a much larger international community.
Personal Safety: Yes, it is true that Kenya is an incredibly friendly country. But the country also experiences notorious crimes and for this reason, the capital of Kenya, Nairobi, is sometimes called as Nai-robbery. Since you are not an inhabitant of Kenya, it is better not to draw too much attention to yourself, especially if you are carrying valuable personal belongings (like jewelry, expensive phones, camera or other costly articles). Nairobi is not the best place to stroll around aimlessly. Here are a few basic rules to remember while relocating to Kenya.
1. Make sure that you have a work permit before relocating to Kenya. The immigration department in Kenya is tough to handle and if you are not sponsored by a company, it will be difficult to get your application and visa approved.
2. You have to make a copy of your passport and make sure that you carry it everywhere you visit throughout the country.
3. Do not wear too much flashy jewelry. Since Kenya is vulnerable to crime, it is better to dress modestly to not draw attention. This will minimize the risk.
4. Wear a money belt which will fit under your clothes and keep the cash, passport and other valuables in the money belt.
5. It is better not to carry too much camera equipment, especially in the major cities.
6. Finally, you need to be careful about the thieves who pose as police officers.
An Integrated Society: The country of Kenya comprises of an integrated society. With a large number of emerging middle-class people having a disposable income in Nairobi, the local and expat communities are not very segregated as they used to be earlier. After relocating to Kenya, you shall see that the expat parents meet and mix freely at the country clubs, schools, shopping centers, bars and local restaurants. This is a major relief for people who are thinking of relocating to Kenya.
The Climate: The wonderful weather makes the country so beautiful to live. But if you are not used to a tropical weather then the heat might be a bit uncomfortable for you. Especially if you are living in Mombasa and Kisumu. The temperature in Mombasa can reach to 38 degrees Celsius. But once you get used to the heat, it won't be a difficult factor for relocating to Kenya. In fact, Nairobi has a mild weather throughout the year. The city of Nairobi is at high altitude and it has got warm days with cooler nights. There is also a short rainy season just before Christmas and a long rainy season prevails during the months of March to May. The times from November to February is mostly warm but overall the climate of Kenya is pleasing and you will enjoy it if you are planning on relocating to Kenya.
Accessible Holiday Destinations: One of the best factors of relocating to Kenya is, there are innumerable holiday destinations and tourist spots to check out. Especially if you are staying in Nairobi, the city is packed with an incredible wildlife. Apart from that, the vast and beautiful white sand and palm-lined beaches of the Indian Ocean are a treat to the eyes. You can snorkel on the coral reef, go for fishing or laze in the sun. The nightlife in Kenya is amazing. You will always find a packed dance floor, wonderful music and no "last calls" for alcohol.
Friendly Locals: Previously we mentioned about the safety and security measures you need to consider while relocating to Kenya. Yes, it is essential to be careful and aware about the country you are going to relocate, however, you don't need to worry too much. The Kenyan people are friendly, patient and very much tolerant towards visitors. Another great thing about Kenya is, English is the first language here. Though most of the Kenyans are trilingual, who use tribal languages, you can rest assured because English is a widely spoken language here too.
Active Social Life: This is another great factor if you are planning on relocating to Kenya. You are going to find innumerable bars and restaurants in Nairobi and a buzzing social scene. There are a lot of great-quality private hospitals and schools. The education system in schools comprises of both international and British system. This is one of the major reasons why the expats love to settle in Kenya.
Affordable General Expenses: If you are relocating to Kenya, you need to know that most of the general commodities are very much affordable. The food items like vegetables, fruits are cheap and plentiful. The daily usable products like shampoos, paste, toothbrushes, generic medicines, and clothes are affordable. A lot of expats often shop at the local second-hand clothes market. The flowers grown here comprises of roses, lilies, and others which are also inexpensive. It is easy to find domestic staff. Culturally speaking, employing a domestic staff for household work, is the norm here. Kenyans consider a domestic house staff to be a good asset. Though you will find a lot of sophisticated shopping centers, there is very little emphasis on being expensively fashionable or having the latest gadgets. Overall, relocating to Kenya won't be an unexpectedly expensive affair for you.
Medication: As we mentioned before, Kenya experiences a tropical weather that increases the proneness to certain diseases. This problem may become more pronounced in the case of expatriates. There are a few mandatory injections and medication you need to take before relocating to Kenya. Consider booster doses of Hepatitis A, Diphtheria, Tetanus, Typhoid Poliomyelitis, Cholera, Rabies, Yellow Fever, and Meningitis. Though Nairobi and some highland areas have a low risk of such diseases, it is still good to take precautions instead of facing medical issues later on. You can get these injections from any clinics and they are not very costly. And once you take these injections, they will prevent you from getting infected by such diseases for a long period of time (5-6 years at the very least).
Food and Drink: Coming to the food and drink, there is no specific Kenyan dish but you can definitely expect some amazing quality steak. This is what makes relocating to Kenya a great experience. Most of the meals in Kenya are served with a grain of some rice, couscous, meat or fish. The foods are deliciously seasoned and most of the hotels and restaurants make use of the fresh products available in the area. But, just like most of the countries, you need to be careful about the "street foods". If you are eating street food, make sure that you are eating them from recently cooked stores at high temperatures. And they are still hot when you are buying it. The street food is delicious and most of the cases they are fine, but if you have a sensitive stomach, it is better to avoid street food.
Now that you are aware of the things you need to know before relocating to Kenya, you might as well hop on the next flight to Kenya. It is a fantastic country which boasts one of the best climates all throughout the year. Kenya makes sure you get the tan and constant supply of Vitamin D. And don't worry about your valuables while relocating to Kenya. Taylor movers have got the best in class professionals and all the necessary equipment to handle all your relocation needs. If you are looking for a reliable and efficient relocation company while relocation to Kenya, it is the right time to contact Taylor Movers.