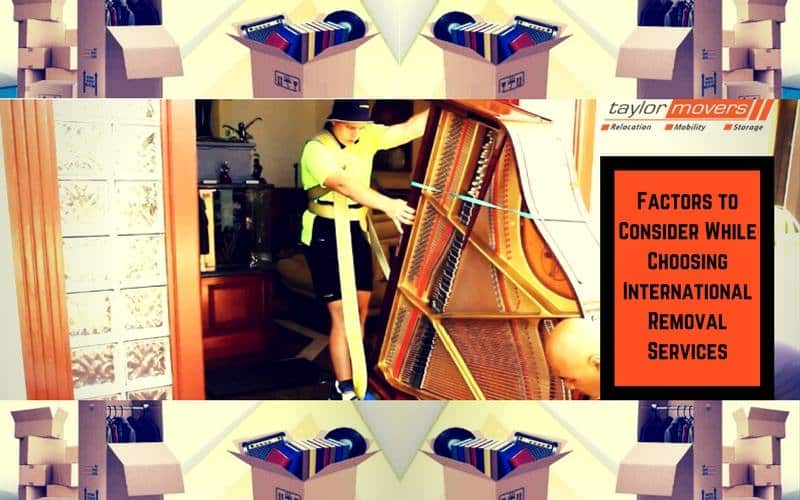 Relocation services, especially international removal services are time-consuming processes which come with a lot of challenges, cultural introspection, and self-discovery. Moving can be one of the best experiences in one's life. You get a chance to explore a whole new world with different people, different traditions, culture, and lifestyle. On top of that, you have to get accustomed to that lifestyle and comply with the social norms. Now, these are the social and cultural aspects which you need to adopt while relocation. Apart from that, the practical aspects of a relocation processes include documentation, getting trustworthy international removal services company, and packing your valuable items. These are also time-consuming and complicated compared to a cross-country move.
This is exactly why you need to choose a proper international removal services company which will simplify the process of relocation and transportation. And you will get the chance to focus on preparing your family for the radical changes that you have to face instead of wasting your precious time on the laborious shifting requirements. When you hire a professional international removal services company, it will take care of all the relocation tasks for you. It will make sure that all your valuable belongings are absolutely safe. The best part is, since they are professional, they are very well accustomed with the international procedures and regulations. Now, there are innumerable international removal companies available, so what do you need to know before confirming a particular relocation services company? Here in this blog post, we have brought you all the necessary factors you need to know while hiring an international removal services company.
What to Know Before Finalizing an International Removal Services Company?
Start Early: You need to start early. The moment you decide that you have to relocate to a completely different country, it is imperative that you start making plans immediately. You have to think about a lot of things while relocation, so, the earlier you start making plans, the more time you will get to check out different international removal services companies. With a lot of options at your disposal, it will become easier for you to find an affordable and trustworthy relocation company which will suit your specific requirements. You have to keep in mind that it will take a month (or maybe more time) for your belongings to shit to a different country. This is another advantage of starting early is, you can make plans for your moving schedule accordingly.
Experience Matters: Check for the experience of the company. This is one of the most important factors to consider while searching for an international removal services company. You need to consider the level of experience for an international relocation. To make sure the process is smooth, the international relocation services company needs to be wary of the international freight regulations, the specific relocation rules and any new regulations of the country. If the company is well accustomed to the international relocation rules, the task becomes smooth and less time-consuming. Taylor Movers international relocation services has immense experience in shifting and the company focuses on offering the most effective services.
Research: If you have a preferred international removal services company, the first thing you have to make sure is, whether the company is an insured and licensed moving company or not. Ask for its accreditations. Any international removal services company should be licensed by the authorizing agency of that country to operate legally in that country. Also, the company needs to have membership in reputable international associations. Taylor Movers is licensed and completely authorized to operate as an international removal services company. Apart from the license, you need to check for the real-time testimonials from the previous clients to know about the history of the company's performance. If your friends or any other family members have opted for a company before, then you can also ask for their recommendations.
Get at least Three On-Site Estimates: While choosing for an international removal services company, it is better to get quotations from at least three different companies. This will offer you with an idea about the cost estimation for the international relocation. To get more accurate information about the relocation costs, it is better to insist on the in-house charges. For this, you need to show your belongings to the moving company representatives so that they can determine the weight and also include the necessary specifics in the final estimation.
Compare the Offers Carefully: After you have got the different quotes and cost-estimations of a few different companies, it is better to check out certain things like what are the services included in that price, what is the time frame, what shipping method they are using and what company is going to handle your valuable possessions in the destination country. It is better that the same relocation services company handles your valuable possessions in the destination country. While checking the prices, do not look at the final price only. Remember that a low price might indicate low-quality services and sometimes they are even scams. In this regard, you can genuinely trust Taylor Movers. They offer an affordable price depending on the relocation services of the clients.
Read the Moving Documentation: When you finally confirm an international removal services company, there is always a contract involved. You need to read the contract carefully and make sure that the terms you negotiated during the initial period of discussion are all present. Apart from that, the time frame, final moving costs and if you have requested for any customized services, need to be mentioned in the contract. Don't sign the contract unless you have clearly understood all the terms and clauses. Once signed, make sure that you have a signed copy of the moving documentation. Make sure that there are no hidden clauses before signing it.
Storage Options: As we have mentioned earlier that international relocation is a time-consuming process, you need to know whether the company is offering storage options. The reason is, during the relocation process, it will be necessary for the company to store your valuable belongings. If the company is not able to offer proper storage options during an international relocation, then it is better not to choose that company.
FAQs for International Removal Services
Beyond a doubt, you will have a lot of queries about the details of your relocation. We know you will only get peace of mind when you have answers to all your queries. When you are selecting an international removal services company, never hesitate to ask about things which you don't understand. The more you know, the better prepared you will be for your international relocation. Here are the following questions you can ask during an international relocation. But remember these questions are framed considering the basics of international shifting and relocation. If you have any further questions apart from these, then you can ask them too.
What Insurance Options do You Offer?
When you are moving your belongings with the help of an international removal services company, your valuables are not with you. And this is why they are always at risk. So, it is important for all the international removal services company to offer insurance to their clients, in case any valuable article gets lost. A genuine international removal services company will always offer insurance.
Who is Going to Handle My Belongings in the Destination Country?
If the company you hired, handles your belongings in the destination country, then it is good. But a lot of international removal services company uses subcontractors who pick the shipment from ports and deliver them to your new destination. That is also fine, but the subcontractors must be trustworthy and licensed professionals.
What options do You Offer for Shifting Delicate or Valuable Articles (like Jewelry)?
A lot of international removal services company offer additional packing support for fragile or delicate articles. They also offer added security for valuable articles like jewelry. So, if you have any such items to ship, you should ask them about it.
Are There any Items that You Won't Take?
You can ask for a brochure or a list of articles that the selected international removal services company won't take. This will save a lot of time for you.
Are There Additional Charges for Storage?
Since you have to put your items articles to storage, you need to ask them specifically whether the storage charges are included in the final charges.
How are My Items Going to be Shipped?
You need to be clear about how your articles are going to be shipped. Whether they will be shipped in crates or separate containers. A lot of times, packages of different people get mixed. So, it is better to ship them in separate containers and then transport it directly to your final destination.
It might seem to be a daunting task if you are shifting for the first time to a completely different country. It will help you a lot if you consider the above-mentioned factors while hiring an international removal services company. When it comes to international relocation and shifting services, Taylor Movers will offer you the most secure and affordable relocation services within the time frame. If you are looking for a smooth and effective international removal services company, contact Taylor Movers now.