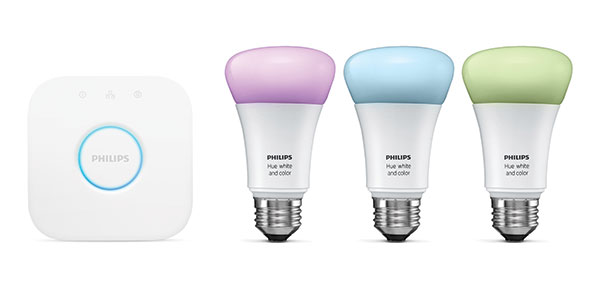 Home automation has become a process that ensures the efficient management of your home either by helping simplify tasks, cut down on costs or even both. Just like smart phones, home automation is the next phase in the always advancing technological steps we make as humans. 
So, we brought you some little well kept secrets in lighting automation that not only saves on electricity but spruce up your home.
Smart lighting refers to the part of the home automation process that ensures the efficient management of your home lighting. Just like smart phones, smart lighting is the next phase in the always advancing technological steps we make as humans. Take a moment and look at the time we spend flipping switches. Every time you leave one room and enter the next. Every night before you go to bed. It's not efficient. And that's where smart lighting comes in.
Smart lighting has benefits such as giving you the ability to remotely control the home lights from anywhere, to schedule on and off times for your smart bulbs making them fit into your schedule, and having greater control over the intensity and colour of your lighting to create the perfect ambiance.
Here is a list of 3 of the best smart lighting gadgets we like. With these, you'll say goodbye to those nights where you have to get out of your comfortable bed after you're all tucked in just to go and switch of that kitchen light you forgot to turn off.
The Philips Hue Color Starter Kit V3
This kit is a smart lighting solution for your home that contains energy-efficient, smart LED bulbs and a Hue Bridge which work together to create a smart and very efficient lighting system for your home.
This particular kit from Philips has the following impressive features:
Play with light and choose from 16 million colours.

Compatible with Apple HomeKit technology and works with Google Assistant, Siri and Alexa.
Sync your Philips Hue lights with movies and music to get dynamic lighting making the whole entertainment better.
Control your lights from anywhere.
Set light schedules for easy home automation.
Connect up to 50 other Philips Hue lights.
Just take a look at this beautiful video and see how amazing this gadget is https://www.youtube.com/watch?v=7TOsFqqJgj4
If you'd like to try out this smart lighting kit, head over to www.techaccess.co.ke they're a local (Kenyan) company that deals with home automation and will be of help. They have a store and you can shop for other home automation gadgets too. When you go to the website, I advise calling them or clicking the whatsapp chat button you find in the website, it's a faster way to reach them.
Philips Hue LightStrip Plus Smart Kit
If you're looking for something extra and more customizable than the bulbs, this LED light strip from Philips is a great option. It's flexible, can be installed anywhere and can also be cut or extended. However, before getting it, remember you also need the Hue Bridge gadget to be able to control the lights effectively.
These lightstrips have an amazing effect especially when placed along the edges of the house, under furniture like a bed frame and sofa.
The outstanding features from these Philips LightStrips include:
Colour changing LED lighting – Change the lighting to any colour you wish (16 million colours available, or set it to change automatically

Extendable – Add as many strips as you wish to cover any distance you may need

Shape, bend and cut – Fully customisable in size, shape and fixture

High Light Output – an output of 1600 lumens means that this Lightstrip will provide the brightness you need for any place in your home

Sync Light to Music and Films – Enhance your experience by synching the lighting to your music, gaming or TV to change accordingly and create a fully immersive entertainment experience

Full Compatible with Amazon Alexa – Use Amazon Alexa to control your lighting with your voice or Alexa app. Also fully compatible with IFTTT

Control remotely – Using the Philips Hue app, control from anywhere in the house or even away from the house as you need.
For more information on the capabilities of this amazing gadget, check out this link  https://www2.meethue.com/en-us/p/hue-white-and-color-ambiance-lightstrip-plus-base-pack/719015548
Philips Hue Go Smart Table Lamp
Closing the list is this portable smart table lamp. It offers a smaller experience when it comes to smart lighting. Simulate some fancy candle-lit ambience or bring some magic to a nice storytelling session under a tent with this bulb.
Here are some features that you need to know:
Rechargeable Lithium ion Battery – Lasts up to 3 hours and means you can take the table lamp wherever you like and no need to buy new batteries every time.

On Product Control – As well as being able to control with Amazon Alexa or the Philips Hue app, you can control the lamp directly on the device.

Natural Dynamic Effects – Choose from Cozy Candles, Sunday Coffee, Meditation, Enchanted Forest and Night Adventure.
This device also requires a Hue Bridge, make sure you have that under consideration. Here's a link to more product info https://www2.meethue.com/en-us/p/hue-white-and-color-ambiance-go-portable-light/714606048
There you go, if smart lighting is something you would like to try out, this is a nice place to start. Take a step into the future and experience it.